SPOILERS
Yep. As predicted, I was.
As soon as I woke up this morning, I downloaded the final episode of
Serial.
I listened to it while making coffee and feeding the dog and fixing a lunch for Laura. Besides the tantalizing and ultimately frustrating mention of the thin possibility that Hae was murdered by a known serial killer, the episode unfolded without any surprises, right down to Sarah Koenig's admission that, while there probably wasn't enough sufficient evidence for a fair conviction, she can't really make up her mind about Adnan's innocence or guilt.
Maybe this wouldn't have felt like such a letdown if the series hadn't been stretched out to such a length that even vague, unrelated rumors become fodder for investigation and interminable discussion.
Serial
was certainly worthwhile as an examination of what can happen in our legal system when a crime is prosecuted without rigor, but for me that aspect of the story was undercut by all the tedious minutiae.
Which is too bad. I was never one of the rabid fans who needed to debate and discuss and contribute to the investigation, but I found the basic story interesting and sometimes compelling. Maybe next season I'll listen without the absurdly high expectations I started out with this season.
Crossposted from Inhuman Swill
Like many of you, I've been following the
Serial
podcast for the past few months. My reactions to the previous eleven episodes have ranged from bored to enthralled to confused, but I'm pretty sure that tomorrow's final episode will leave me feeling disappointment.
I'd love to be wrong. I'd love for Episode 12 to pull everything together, to fill me with a transcendent sense of the ephemeral nature of truth, or to turn up the final damning piece of evidence that either implicates or exonerates Adnan Syed. I don't have much confidence in either outcome.
Maybe part of this comes from my own unreasonable expectations. When I first started listening to this true-crime story, I assumed that Sarah Koenig was well ahead of the game and had unraveled the mystery already. I assumed from the very title,
Serial,
not just that twists and turns and cliffhangers and reversals lay ahead, but that a sure hand on the tiller was guiding the ship to a known destination.
As time went by, though, it became more and more clear that this was not the case. As Koenig began to incorporate interviews with people who had contacted her after hearing the podcast themselves, it became obvious that her did-he-or-didn't-he-do-it shtick was genuine. She really didn't know. I had been avoiding reading any press about the story lest the ending somehow be spoiled, but I stopped doing that once I realized this was not a spoilable story.
Koenig is a likeable guide, and I'll be listening to the final episode tomorrow with hope, to learn what conclusions she will ultimately draw from the stew of facts and suppositions she's presented us over the course of eleven episodes. But I've sensed the show running out of steam over the last few installments, being padded out to a length the story doesn't really support. When the end was announced at the end of the previous episode, I was simultaneously relieved and outraged. How could it possibly end now, no closer to a solution than when it started? How could it possibly have dragged out this long?
I'll be listening tomorrow, but I don't see how I won't be disappointed.
---
Obviously I'm not the only one who feels this way.
Crossposted from Inhuman Swill
Tomorrow morning I expect to be disappointed.
Newtown Literary
is our homegrown literary journal here in the borough of Queens. Its fifth issue, devoted to speculative poetry and prose, just appeared, and features my new short story "Sparkler." The issue can be purchased now at
The Astoria Bookshop
in Queens, and will soon be available for ordering online.
In celebration of the new issue,
Newtown Literary
will be hosting a launch party on December 17. The event takes place at
Terraza 7 Train Café
in Elmhurst, Queens. The lineup for the evening also includes Laura Grow-Nyberg, Jennifer Morell, Crystal Rivera, Joan Willette and more.
Wednesday, December 17, 7:00 pm
Newtown Literary #5 Launch
Terraza 7 Train Café
40-19 Gleane St
Elmhurst, NY 11373
Terraza 7 can be reached via the 7 train to 82nd Street in Queens, or (a bit less conveniently) via the M train to Elmhurst Avenue. I hope to see you there!
Crossposted from Inhuman Swill
Ella calendar for 2015
is available now from Lulu.com. It features thirteen months of all your favorite Ella photos from from the past year—all right, all right,
our
favorites—and for a limited time you can get it for the discounted price of only
$11.99
plus shipping and handling. What a fetching bargain!
Click below to buy now, and you can keep
Ella-porting
around NYC with your favorite soft-coated wheaten terrier all year long.
Ella-Portation 2015 13-Month Calendar
But that's not all! If you just can't get enough of Ella, we've created an alternative calendar for 2015—actually, it's our
2015 Ella-Ternative 13-Month Calendar!
Same great low price! Thirteen different super-cute photos!
Ella says,
"Rowf!"
(By which she means "Get 'em both!")
Crossposted from Inhuman Swill
Hi, gang! Laura and I are happy to announce that the new
Thursday, November 13,
I'll be appearing here in Queens at
Boundless Tales
, a series that features poetry, prose, and more. I'll be reading a personal essay that encapsulates the whole of my forthcoming memoir,
The Accidental Terrorist.
The
lineup for the evening
also includes Jennifer Baker, Susana H. Case, and Aaron Poochigian. This event takes place at 7:00 pm at
The Astoria Bookshop
, near the Broadway stop on the N/Q line. I hope to see you there!
Thursday, November 13, 7:00 pm
Crossposted from Inhuman Swill
Tonight,
my memoir
. Hey, don't feel bad about it! I brought it on myself.
In a
blog post a few weeks ago
, I let casually drop that I was considering changing the title from
The Accidental Terrorist
to
Missionary Man
.
You'd think I suggested that
Sesame Street
should change Big Bird's name to Lysander Lemonbeak. (Though it does have a certain ring.)
Let me back up a bit and give you some history. When I started work on the book,
Missionary Man
was my working title. The Eurythmics single of the same name had dropped in the summer of 1986, just two months before I entered the Missionary Training Center to start my two years of service. Rumors abounded (in Utah, anyway) that Annie Lennox had written the song after two Mormon missionaries knocked at her door. For a lot of us leaving on missions around that time, "Missionary Man" was our anthem.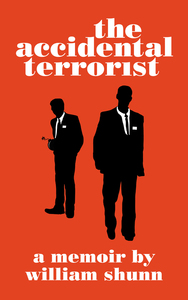 As a title,
Missionary Man
evoked for me not just the time period of the book but the idea that this would be my coming-of-age story, a recounting of how I became both a missionary and a man. I registered the missionaryman.com domain name (now sadly lapsed). My friend
Geoff Fowler
even created a logo for me to use on the website.
But then a funny thing happened. A flashier title popped into my head.
The Accidental Terrorist
was a grabber. It became the new working title. It never sat entirely right with me, though. It was no
accident
that I picked up a telephone in Calgary and made a false bomb threat. I did it with deliberately, to achieve a premeditated effect. (Sure, I premeditated for only a minute or two, but still.) Calling my act accidental has always seemed slightly wrong to me, made me feel guilty and uneasy.
Fortunately, though,
The Accidental Terrorist
is what I called the book when I started serializing it in my podcast back in 2006. That's how everyone who listened knows it, and that's the book they want to see.
I'm not sure why, aside from that pesky conscience of mine, I thought it would be a good idea to go back to my first working title. Yes, a few people whose opinions I respect have told me over the years that they didn't find the title appropriate, but I think I gave those opinions too much weight. When I brought up the possibility of changing the title with my wife, she told me I was being crazy and wrongheaded. When I traveled last week to Chicago for a reading and then to D.C. for the World Fantasy Convention, I ran into a large number of friends who told me I was being crazy and wrongheaded.
They were right.
This, folks, is why I'm a writer and not a marketer.
So don't worry. I got the message. Thanks for setting me straight. I have re-embraced my memoir's one, only, and proper title, and I've re-remembered all the many reasons that title is an excellent one. I've even started playing around with some illustration ideas I can eventually give to whatever artist I hire to do the book cover (one of which you can see above).
Now let's take a moment to pour a libation to the memory of
Missionary Man
. You were a good title for the times, but like John the Baptist you came merely to prepare the way. Long live
The Accidental Terrorist
.
Crossposted from Inhuman Swill
There seems to be some confusion out there about the title of
standing on the wall.
As they kissed,
we shot over their heads.
Just for one day,
can't
we
be heroes?
Crossposted from Inhuman Swill
And I remember
I'll be in Chicago tomorrow night,
Tuesday, November 4,
to read at
Tuesday Funk
, the series I used to host and produce. I'll be reading from a new science fiction story, "Our Dependence on Foreign Keys." The lineup for the evening also includes Keesha Beckford, Tom Haley, Maggie Jenkins, and Melinda McIntire. This event takes place at 7:30 pm, upstairs at
Hopleaf
, near the Berwyn stop on the Red line.
Then on
Thursday, November 13,
I'll be back home in Queens for
Boundless Tales
, a series that features poetry, prose, and more. I'll be reading a personal essay that encapsulates the whole of my forthcoming memoir,
The Accidental Terrorist.
The lineup for the evening also includes Jennifer Baker, Susana H. Case, and Aaron Poochigian. This event takes place at 7:00 pm at
The Astoria Bookshop
, near the Broadway stop on the N/Q line.
Please mark your calendars! I'd love to see you at either event, or both.
Tuesday, November 4, 7:30 pm
Thursday, November 13, 7:00 pm
Crossposted from Inhuman Swill
Hey, Shunn-watchers, I have appearances upcoming this month at reading series in both Chicago and Queens.
I have just one question concerning the "1in from margin" factor: what page size is normally used?

8.5x11?
6x9 ?

I see the '1in from margin' statement everywhere but nowhere I've found do they say the page size.
In the United States, Canada, and a few others places, print and submit your manuscript on white
standard letter size
paper, which is 8½ by 11 inches. In most of the rest of the world, including the U.K., Australia, and New Zealand, use
A4 paper
, which is 210 by 297 mm, or about 8.27 by 11.69 inches. (A4 is part of the
ISO 216
standard, which
makes a lot more sense
than our system.)
But really, when have you ever seen a ream of 6 x 9" printer paper at Staples? It's a fairly standard size for book publishing, yes, but that wouldn't make it at all practical for manuscript submission.
By the way, before you ask, if you're submitting a short manuscript on paper you'll need to buy 9 x 12" envelopes.
Crossposted from Proper Manuscript Format
A reader writes to ask:
I find something deeply unsettling about numbers stations.
I suppose I must have encountered the concept at some point reading spy fiction, but my true introduction to numbers stations came earlier this year from my friend
Anthony Atamaniuk
. When he played a few examples at a party, I was instantly transported to the nightmarish world of my earliest childhood memories, where the universe beyond my bedcovers seemed to vanish with the fall of night, and every half-heard or half-imagined sound was like a transmission from a cinder planet light-years dead. To me the recordings sounded like outer space, like eternal night, like death.
If you don't know, numbers stations are the shortwave frequencies on which spies regularly transmit coded messages. In 1997, Irdial-Discs released
The Conet Project,
a 4-CD collection of numbers-station recordings. The whole thing is available as a
free download
, but you can also purchase a
re-release that adds a fifth disc of more recent recordings
.
If you have any interest in the history of espionage, or just in very creepy recordings that probably influenced many a horror movie soundtrack, you have to take a listen:
(You may have heard some of this material before. In fact, if you want to hear where the ethereal voice intoning "Yankee ... Hotel ... Foxtrot ..." on that Wilco album came from, just click forward to track 4.)
What I find most remarkable about numbers stations is that they're not some Cold War relic. They persist to this day, even in this Internet age. I know that composer
Olivia Block
has been scanning the shortwave bands for numbers stations lately, searching for the ingredients of a new recording project. Somewhere out there, hunted women and men are still pulling out their radios late at night, casting their lonely reports out into the ether like messages in bottles.
And the thought of it terrifies me.
Crossposted from Inhuman Swill