It may seem a tad late to be posting a mix for January, but I sort of got busy and failed to do so last month. Yes, the
CD Mix of the Month Club
reconvened a few weeks ago to throw a going-away party for our member Josh McCuen, who's off now on an epic New Zealand adventure. A couple of us made mixes. Most of us didn't. I guess now we're more like the Used to Make a CD Mix of the Month Club, which makes perfect sense now that there are easier ways to share music than burning data onto aluminum discs.
Anyway, my contribution to
January's shindig
was called
Difference Engines.
This rather churlish and cheeky mix comprises mostly female vocalists, and the most if not all of the tracks are available on Spotify. Take a listen below.
(
The story so far
.)
Crossposted from Inhuman Swill
Electric Velocipede.
I was dubious, eyeing the cheap, stapled covers, but everyone else around was acting like they'd just been given a gift of gold.
Before I started reading that first issue, I had never given much thought to sending any of my stories to fanzine markets, or even really to the semipros.
Electric Velocipede
changed my mind. The fiction was good, really good, and John had a keen, idiosyncratic editorial eye. And an air of unlikely coolness somehow clung to the roster of names on the cover. I wanted to be a part of it.
And by Issue 4, I was, with a weird little horror story called "Mrs. Janokowski Hits One out of the Park," a story
I
believed in but that no pro editor seemed interested in. That was the
first of five
EV
stories over the years (including one under my
Perry Slaughter
byline). Along the way
another story
appeared on the
EV
blog, and John also published my chapbook
An Alternate History of the 21st Century,
which contained two more original stories that no one else seemed to want to touch. (One of those, "Objective Impermeability in a Closed System," ended up reprinted in Hartwell & Cramer's
Year's Best SF 13
.)
All this is by way of saying that
Electric Velocipede
has played a crucial role in my short fiction career, and I owe John Klima a deep debt of gratitude. Now, after a Hugo Award win and something like four World Fantasy Award nominations,
EV
is publishing its 27th and final issue. It's a sad occasion, but I hope you'll join me and a boatload of other contributors on Friday, February 28th, at Bluestockings Bookstore, for a reading, release party, and memorial service. It'll be great fun, and besides me you'll get to hear from writers like Robert J. Howe, K. Tempest Bradford, Nancy Hightower, Matthew Kressel, Barbara Krasnoff, Richard Bowes, Mercurio D. Rivera, Jonathan Wood, and Sam J. Miller. There'll be raffles and snacks, and a chance to purchase an
EV
sampler with stories by all the participants.
Please join us in sending a great magazine off in a big way!
Electric Velocipede Issue 27 Release Party & Memorial Service
hosted by Sam J. Miller & Nancy Hightower
Friday, February 28, 2014, 7:00 pm
Bluestockings Bookstore
172 Allen Street
New York, NY 10002
facebook event listing | more info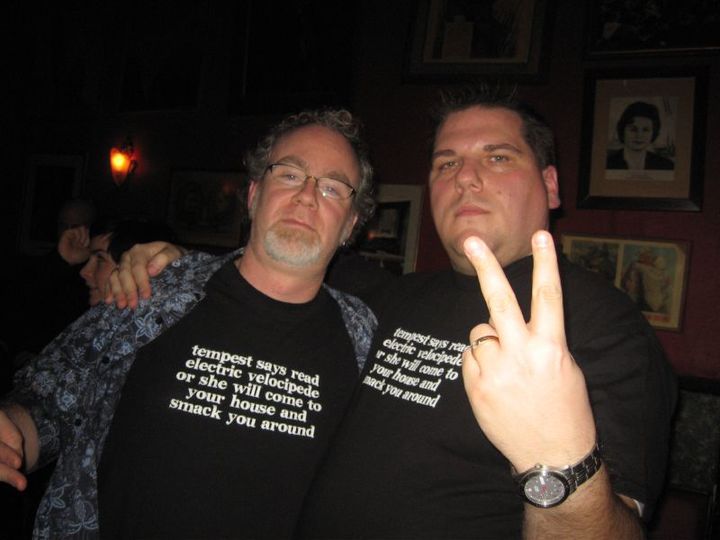 Crossposted from Inhuman Swill
According to John Klima, he and I first met at the SFWA Authors & Editors Reception in 2001, perhaps introduced by Cory Doctorow. I have no memory of that. The first time I remember meeting John was at a party at a convention around that same time (I forget which one) where he was handing out free copies of his new zine,
How should we format a manuscript of multiple poems that each span more than a single page? Do we number our pages starting from 1 whenever we begin a new poem, or should we number our manuscript 1,2, 3... 10, etc. regardless of the poem? Also, what information should we include on each subsequent page, and is it necessary to number the first page of the manuscript at all? Am I right in assuming that a tonne of section breaks are in order?

Some sites say to include your name and address (I've even seen e-mail) on every page of the manuscript, but that seems a bit redundant and makes the headers of my word document look cluttered and untidy. Other sites say to just include your name and a few key words from your poem's title on each page, along with "continue stanza" or "begin new stanza." This seems, aesthetically to me at least, the best format. Is there a professional standard I should be aware of?
Excellent questions, all. I've recently updated my
sample poetry manuscript
, so before anything else I'd suggest that you take a look at that, and that you review my post "
Formatting and submitting poems
." To hit the highlights, in a multi-poem submission you should start your numbering over at 1 for each poem. No number is required for the first page of a poem, while a minimal header with no contact info goes in the upper-left corner of each subsequent page. Single-space your poem, and separate stanzas with a blank line.
But there's an important point you ask about that my earlier post doesn't address. What exactly goes in those headers on subsequent pages of a long poem? It's very simple, and it agrees with what you've read at some other sites. Put your full name on its own line in the upper-left corner. On the next line put one or two words from the title of the poem, the page number, and either
"begin new stanza"
or
"continue stanza"
depending on where the page break fell. (That way you don't have to clutter your poem with a lot of unsightly
#
symbols.) Then skip a line and continue your poem. Your header should look something like this:
William Shunn
Passing, page 2, begin new stanza

Poem text continues here.
In other words, your instincts were good. The professional standard is indeed the more aesthetically pleasing option.
Crossposted from Proper Manuscript Format
A reader writes to ask:
Also, the mail carrier is really trying hard to be your friend. Can you spot him a few points for that?
Crossposted from Inhuman Swill
I'm sorry, Ella, but you have to accept it. If you drag me a mile and a half to the park through a slushy wasteland on the front end of our walk, then there's no getting around a mile and a half home on the back end after you've worn yourself out. Stopping along the way and staring at random parked cars will not cause them to magically unlock themselves and chauffeur you home. I hate to be the one to tell you, but that's not how property works in our capitalist society. (Though it would be cool if it was.)
Hook & Eye Theater
company is nearing the end of its run of its new play "
The Summoners
." A surreal, mindbending blend of
Groundhog Day
and
Synecdoche, New York,
"The Summoners" tells the thought-provoking story of what happens when the blanket of clouds that has shrouded America for three years parts for five blissful minutes over one Indiana town—and the chilling media circus that ensues.
Our friend Cynthia Babak is part of the terrific cast that together devised the story of this play, which was then turned into a script by Gavin Broady. But it's only running two more nights! See it tonight or Saturday at The C.O.W. Theater, 21 Clinton Street in Manhattan.
Tickets are a mere $18!
Don't miss it!
Crossposted from Inhuman Swill
New York's
If it was a bittersweet affair earlier this week at Tuesday Funk, it was also a raucous one. We might have said goodbye to a longtime co-host, but we certainly didn't say goodbye to the eclectic and irreverent spirit of the series!
We kicked things off in fine fashion with plagiarized tweets and a madcap tale of elder care from a very animated
Davis Schneiderman.
Jocelyn Geboy
followed that up with the funny and painful tale of her week in a psych ward. Our regular feature
Haiku by Andrew
delighted us with topical verse. And
J. Michael Grey
closed out the first half of our program leading four players in a staged reading of his short play about fathers and fortune and homophobia and more, all set in an Irish pub.
After a break for beer from Mark at the bar, we were treated to a brief history of
Poems by Bill
(including return visits to "
Dogwalker's Algorithm
" and "
Under Their Skirts
"), along with
one last new poem
for the occasion.
G.P.A.
arrived just in the nick of time to bring us the stirring and heartbreaking tale of the bully who stole his chocolate milk. And finally, in his final appearance as a co-host,
William Shunn
delivered a new short story about Mormon missionaries, mouse murder, and an elderly Russian Jew in northern Idaho.
So that's what you missed out on if you missed out on Tuesday Funk, but never fear! We'll bring you plenty of video excerpts in the weeks to come, and then we'll be back on
Tuesday, January 7th, 2014,
for an evening with
Ryan Bartelmay, Kelly Swails, Christa Desir, Jasmine Davila,
and
Christopher Sweet.
Please don't miss it!
Crossposted from Tuesday Funk
I wrote this poem to read at last night's Tuesday Funk—the 64th episode in the series, and my final night as host.
Bless the English language
for its charming, maddening
ambiguity.
Will I look back on this night
as the last time I was here
or the
last
time I was here?
It matters to me.
Does it matter to you?
Crossposted from Inhuman Swill
Tuesday Funk's
64th episode, featuring
G.P.A. (Greatest Poet Alive), Jocelyn Geboy, Davis Schneiderman, J. Michael Grey,
and—in his final appearance as a Tuesday Funk co-host—
William Shunn!
Don't miss it!
Our readings take place at
Hopleaf Bar
,
5148 N. Clark St.
in Chicago. We get started promptly at
7:30 pm
in the upstairs lounge. Arrive early if you want a seat—but no earlier than 7:00 pm. Our readings are
free,
but only those
21 and over
will be admitted. No food can be brought in from the restaurant. See you there!
Crossposted from Tuesday Funk
Don't forget—tonight is
William Shunn
has served as co-producer and co-host of
Tuesday Funk
since our
27th episode
in October 2010. He devised our current five-reader format, introduced such popular recurring features as our
Poem by Bill,
and designed and programmed
our website
. He also blogs and occasionally podcasts at
www.shunn.net
.
An acclaimed writer of short fiction, Bill has been shortlisted for the highest awards in science fiction, including the Hugo, the Nebula, and the Theodore Sturgeon Memorial Award. In June he moved with his wife and dog to New York City, where he's turned his attention to a series of linked stories drawn from his experiences as a Mormon missionary in the late 1980's. He has returned to Chicago every month since moving to keep hosting Tuesday Funk, but will hang up his hat at last after next week's show. Does a
Tuesday Funk East
lurk somewhere around the corner? Only time will tell.
Please join Bill—for the last time!—and all our celebrated readers on
Tuesday, December 3rd, 2013,
upstairs at
Hopleaf
at 7:30 pm. This 21-and-older event is
free.
Crossposted from Tuesday Funk
November 5th edition
of
Tuesday Funk,
Vojislav Pejović
took us to Belgrade for an excerpt from his powerful new story "Rearrangements," and it sounded just a little like this...
And if you enjoyed that, please come out to our next event on
Tuesday, December 3, 2013,
which features readings from
G.P.A. (Greatest Poet Alive), Jocelyn Geboy, Davis Schneiderman, J. Michael Grey,
and—in his final appearance as a Tuesday Funk co-host—
William Shunn!
You won't want to miss it!
Crossposted from Tuesday Funk
At our