I was very pleasantly surprised to wake up this morning and discover that
The Accidental Terrorist
is a
finalist for the 2015 Association for Mormon Letters Award in Creative Non-Fiction
. Okay, it would have been more accurate to say that you could have knocked me over with a feather.
The
Association for Mormon Letters
has been around for 40 years, fulfilling its mission to promote and study literature "by, for, and about Mormons." I honestly have no expectation of winning (and as nice as it would to attend the awards ceremony in Hawaii, I probably won't be able to go anyway). Being nominated is reward enough for me, as the inclusion of my book on this shortlist speaks volumes to the organization's willingness to push the boundaries of Mormon literature to include works that try to honestly address
all
aspects of the Mormon experience, even ones that may not be faith-affirming.
Thanks, AML! Best of luck to all the nominees.
Crossposted from Inhuman Swill
Hemant Mehta and Jessica Bluemke of the
Friendly Atheist Podcast
recently got me on the phone to talk about my memoir,
The Accidental Terrorist.
It was a delight to talk with them, especially as their incredulity kept growing as we delved deeper and deeper into the story of my missionary experience. Take a listen below, or at
this link
.
Crossposted from Inhuman Swill
Just a quick reminder that I will be reading tonight with
Nancy Hightower
at
Bluestockings
on Manhattan's Lower East Side. The event is free! I hope to see you there. Click below for more info:
REBEL PILGRIMAGESA Reading with William Shunn & Nancy Hightower
Bluestockings Bookstore, Activist Center & Café
172 Allen Street
New York, NY 10002
Friday, January 29, 2016
7:00 - 8:00 p.m.
---
Also, I was very fortunate two weeks ago to be invited to Google's New York City offices to speak as part of their
Talks at Google
series. Today the video was released on YouTube. Here's the event description:
"In his new memoir,
The Accidental Terrorist,
Hugo and Nebula Award-nominated science fiction writer
William Shunn
tackles his strangest project yet—the true story of his arrest and conviction for hijacking as a young Mormon missionary. In addition to reading excerpts from the book, he'll discuss the ways in which changing technologies shaped the long process of writing and publishing it."
Watch below:
Crossposted from Inhuman Swill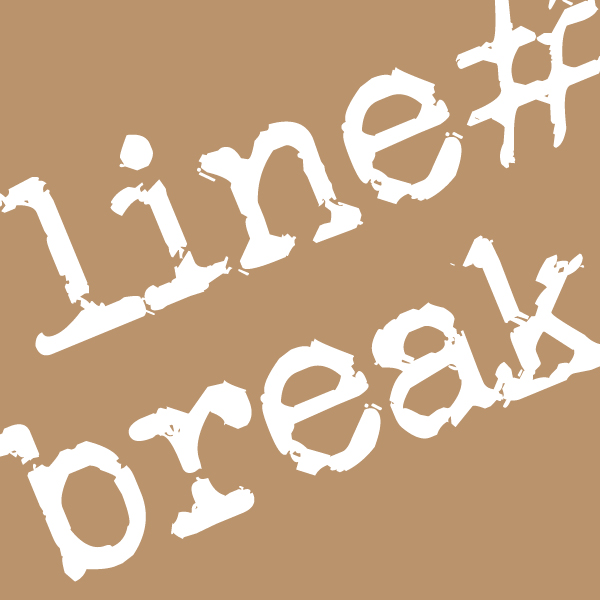 Greetings, New York! We're very pleased to announce the new
Line Break
reading series, a showcase for the vibrant literary scene of Astoria, Queens, and beyond!
In prose writing, a line break indicates the start of a new thought or scene, and that's what we hope each new episode of Line Break will bring you—new thoughts, new perspectives. A new scene.
Our thanks to
Q.E.D.: A Place to Show & Tell
for giving Line Break a home. Our producer and host will be author and poet
William Shunn
, a veteran of the "live-lit" scene in Chicago, where he hosted the acclaimed
Tuesday Funk
reading series for three years.
Line Break is, for now, a quarterly series. Join us for our first show at Q.E.D. on Saturday, March 5, at 5:30 pm. Watch this space for more updates, including how you can participate. We hope to see you there!
Crossposted from Line Break
On Friday, January 29, I'm very excited to be reading with the amazing writer, poet, and critic
Nancy Hightower
at
Bluestockings
on Manhattan's Lower East Side.
Admission is free! Please come out and join us, bring your friends, buy some books, get them signed, and tag along with us afterward for libations nearby! All the details are below.
---
REBEL PILGRIMAGESA Reading with William Shunn & Nancy Hightower
Bluestockings Bookstore, Activist Center & Café
172 Allen Street
New York, NY 10002
Friday, January 29, 2016
7:00 - 8:00 p.m.
more info
|
facebook event
---
William Shunn
will read from his new memoir,
The Accidental Terrorist,
which describes his harrowing and at times hilarious escape from Mormonism, a journey that led from the oil fields of Alberta through a Canadian jail and ultimately to freedom from authority.
Nancy Hightower
will read from her poetry collection,
The Acolyte,
which rewrites biblical narratives from a haunted, feminist perspective, effectively wrenching them out of politicized right wing rhetoric. Think Anne Lamott meets Stephen King.
Crossposted from Inhuman Swill
This morning we wake up to
a world without David Bowie
.
It seems impossible that he's gone. If anyone on Earth seemed otherworldly enough to transform himself into something eternal and transcendent, it was Bowie. But even he tried to remind us in 1997 that he was not really an alien but an
Earthling.
His death hit me harder this morning than I would have expected (as is no doubt true for all of us). I haven't felt this devastated at a musician's death, in fact, since 1990, when Stevie Ray Vaughan died in a helicopter crash. (And is it coincidence that Bowie had
helped raised Vaughan's profile
, as he did with so many other musicians?)
I came to Bowie "late," as I didn't really start paying attention to his music until 1983, when I was 16.
Let's Dance
ruled the charts, but it was generally held that his important work was all behind him and he was now selling out. None of that mattered to me, though. I knew some of his earlier music because he was one of the few '70s artists who was played on my favorite Utah new wave station. But
Let's Dance
was a perfect album for my generation—consummate pop you could move to on the dancefloor while still feeling smart. And Bowie himself seemed the epitome of suavity and cool.
A year later, when I was starting college, I remember sitting in the foyer of the Student Union at the University of Utah, where a large screen TV that showed MTV all day was set up in front of about twenty folding chairs. That's where I watched the debut of the full 20-minute short film "
Jazzin' for Blue Jean
," in which Bowie played two roles, including Byronesque pop star Screaming Lord Byron.
I so much wanted to be David Bowie that I tried painting my face like Screaming Lord Byron that Halloween. Despite the ubiquity of the shorter "
Blue Jean
" video, not many people could tell what I was going for, and I spent a lot of time explaining who I was supposed to be.
(Another great memory I have from the U.'s Student Union is the time I dragged my ultra-Mormon pal Steve there to see a showing of the
The Hunger,
which featured Bowie as a sexy vampire. I think it may have scarred him for life.)
I next connected with Bowie when he formed the grungy hard-rock band Tin Machine. I was a huge fan of their
1989 debut album
, but then Bowie sort of fell off the map for me again. I reconnected permanently in 1997, as
Earthling
was being released. This was also just as I started working at
N2K Entertainment
as a web developer for a site called Rocktropolis.com. The company was partnered with Bowie in launching his forward-looking
Bowie.net ISP
, and we helped stream a groundbreaking live webcast of his Earthling concert from Boston that March. I played
Earthling
incessantly, and from then on I kept up with all his new releases, and began exploring backward to start understanding what I'd missed.
Sadly, I only saw him play live once, at the Beacon Theater on October 20, 2002, on his New York Marathon tour of all five boroughs. (Laura, lucky her, also saw him a week earlier at St. Anne's Warehouse.) It was a tremendous show. More recently, we were lucky enough to be able to fly to Chicago to see the
David Bowie Is
exhibition at the Museum of Contemporary Art. That was an amazing experience, filled with immersive sound, video, costumes, handwritten lyrics, and more. We spent at least four hours wandering back and forth through all the rooms, trying to take in everything. I do not exaggerate when I say it was the best museum show I've every seen.
His productivity and restless experimentation have long been an inspiration and example to both Laura and me, to the point that we collaborated on a short story called "
Subterraneans
" (published in the
Glitter and Mayhem
anthology) into which we crammed as many Bowie references, both overt and oblique, as we could. (You can hear a soundtrack to the story
here
.)
Just this past Friday night, Laura and I went with Paul Witcover and Cynthia Babak to see
Holy Holy
play at the Highline Ballroom. This tribute band, of sorts, was created by Bowie's former drummer Woody Woodmansey and his former bassist and longtime producer Tony Visconti, to play
The Man Who Sold the World
in its entirety. (Woodmansey and Visconti both played on that album.) Since Friday was Bowie's birthday, not to mention the release date for his new album
Blackstar
(which
Visconti produced
), I think everyone in the audience secretly hoped he might show up to sing a couple of songs.
That didn't happen, but at one point Visconti took out his cellphone and called Bowie so we could all sing him "Happy Birthday."
Did Visconti really get him on the phone? I don't know, and I'm not sure it matters. If it was only an illusion that Bowie could hear us singing, well, much about David Bowie was an illusion. And I would rather that illusion than the reality that, as we sang, Ziggy Stardust lay dying.
Today, all of Planet Earth is blue; most of us, I'm sure, can tell the stories of our own particular relationships with David Bowie. But as my friend Miguel texted to me a little while ago (quoting a
tweet
by
Dean Podestá
that was itself widely
misattributed
to
Simon Pegg
):
"If you're sad today, just remember that the world is 4 billion years old and you somehow managed to exist at the same time as David Bowie."
Amen.
---
One last thought. Much has been made today of the allusions to mortality and dying in
Blackstar
and especially "
Lazarus
." But lest we forget, death and horror have always played a role in Bowie's art. He was always conscious of his mortality, even if we were not.
Crossposted from Inhuman Swill
Hi, gang! Laura and I are happy to announce that the new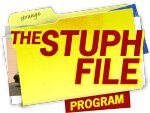 It was my pleasure to be the guest of Canadian broadcaster
Peter Anthony Holder
this week on his odd-news-and-talk show,
The Stuph File Program
.
We talked, of course, about my memoir
The Accidental Terrorist,
about how humor and religion mix, and about the relative merits of Mormonism and Canada. Peter is a charming host, and I had a great time doing his show. You can hear my 12-minute interview segment below:
Or you can listen to the
full episode on Stitcher
.
---
And if you like what you hear, the
Kindle edition of The Accidental Terrorist
is on sale today only for a mere
99 cents!
Hurry! This sale price won't last for long.
Crossposted from Inhuman Swill
The Accidental Terrorist
was released), I mailed
my resignation letter to the LDS Church
via USPS Priority Express with delivery confirmation.
You see, unlike in many Christian churches, having your name and records removed from the rolls of Mormonism is not as simple as refraining from church attendance. Mormons are sticklers for records, and unless you do something drastic, they continue to count you as a member whether you want to be counted or not. If you move, your church records will often follow you, whether you want them to or not, and the leaders in your new city will send people out to your house to make sure you get involved in the local congregation. I've heard from former members whose repeated requests to be left alone were completely ignored, to the point where it could be called harassment.
I had not attended a Mormon church in nearly twenty years, and my address had changed
eight times,
but on May 29, 2014, I nonetheless received an email out of the blue from the local Mormon ward in Astoria, Queens, asking for volunteers to help out with a weekend service project. I still don't know how they knew where I lived, never mind what my email address was.
The point is, the LDS Church (both as an institution and as individual members) is
terrible
at respecting the boundaries of people who would prefer to be left alone. Because of this,
it took at least one lawsuit
to establish that people in the United States have the right to easily resign from the church and thereafter be left alone. That's how it should work in theory, anyway. In practice things are often messier.
Until 1985, the church claimed that excommunication was a person's only route out of membership. Despite the fact that it is now well-established that one can resign by sending a request to Church Headquarters, the leadership continues to coyly insist that resignations must be handled by local leaders. In fact, on November 20, ten days after mailing my resignation letter to Salt Lake City, I received this letter in the mail, stating that the matter would be referred to the local bishop and stake president: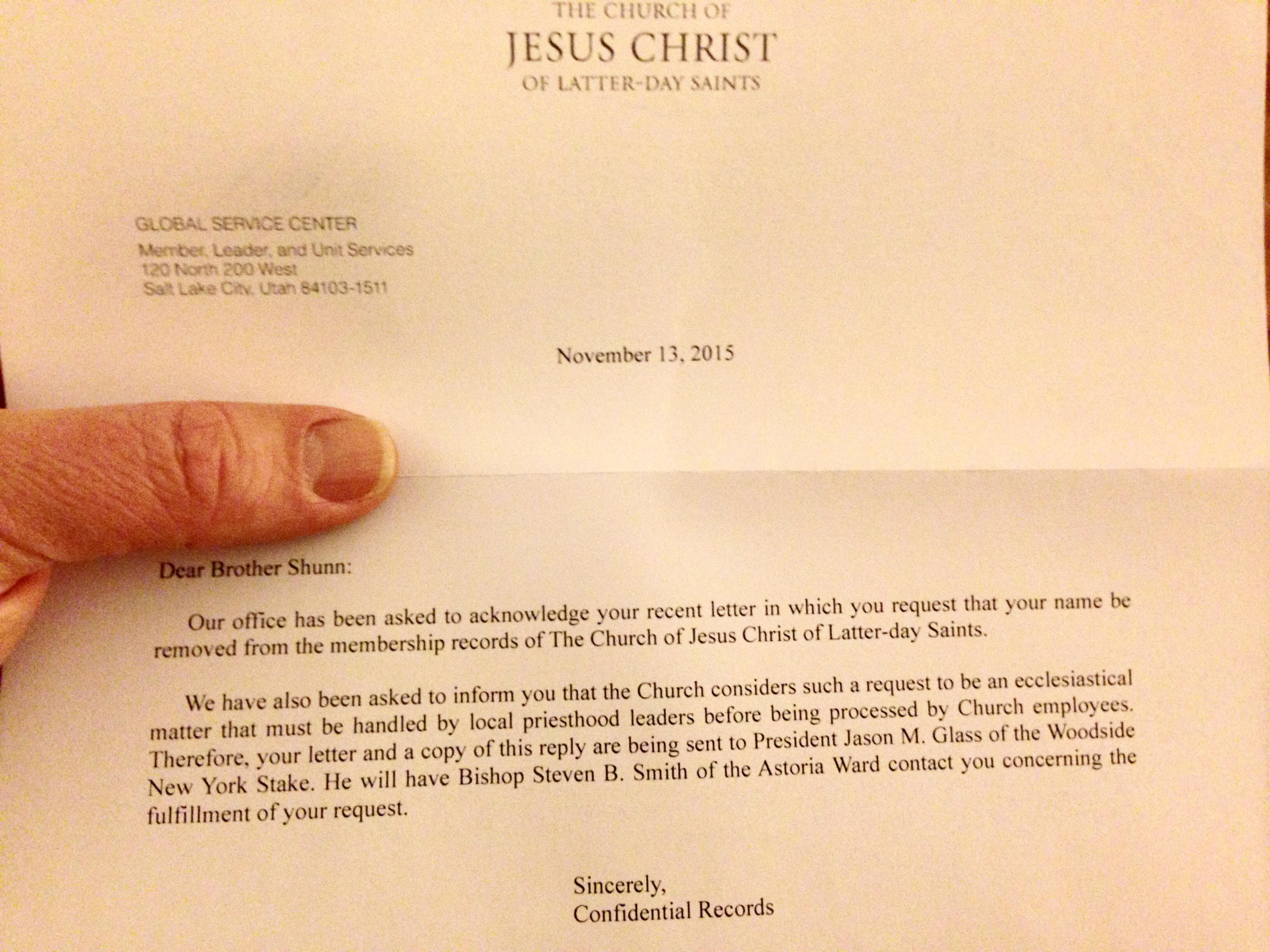 Thanks to
this heads-up from MormonNoMore.com
, I had been expecting that response. And in fact, in my particular circumstance, I would have been happy to talk to Bishop Steven B. Smith—if only to share my considered option of the LDS Church with a duly constituted representative, and to inform him that I knew, legally, that I had ceased being a member of the church the moment my letter was received at Church HQ. But that didn't mean I would acknowledge any claim of authority over me that the church might still make.
Before I had a chance to compose a second letter, however, reminding the church that my resignation was now complete and demanding acknowledgment of that fact . . . lo and behold, I received a second letter in the mail, only three days after receiving the first:
Well,
that
was unexpected. I had received my confirmation of resignation without even kicking up a fuss. I would have been tempted to imagine that the church didn't want to risk bad press from a "high-profile" (ha!) apostate like me, except for two things.
First, a high school friend of mine had messaged me two days earlier to tell me that
his
confirmation of resignation had just arrived, and he hadn't needed to raise a fuss. (We sent our resignations only a day apart.)
Second, hundreds of people have been
resigning from the church this month in protest of its new policy toward the children of married same-sex couples
.
My guess, therefore, is that the LDS Church is putting the usual bullshit aside for the time being in order to expedite all these resignations, and maybe to ameliorate the bad press it's getting.
Moral of the story: If you've been putting off resigning from the LDS Church because of the bureaucratic hurdles they try to put it, there might be no better time to get it done quickly than right now.
No muss, no fuss.
To find all the information you need in order to resign from The Church of Jesus Christ of Latter-day Saints, visit: MormonNoMore.com
Crossposted from Inhuman Swill
On November 10 (the same day
First off, Ella is doing just fine, despite the fact that she had surgery last month, the second time this year. Like many wheaten terriers, Ella is prone to developing big
sebaceous cysts
, which for the most part we have left alone. They're mostly only a problem if they start to grow. In that case they can cause intense discomfort, or they can even burst and get infected.
Normally we've handled Ella's cysts by having them drained with a needle when they get too big, but in February we finally had to send her under the knife for the first time to have four of them removed. One had burst, another was getting bigger, and we figured we would just take as many off as possible as long as she was under anesthesia anyway.
This is considered minor surgery, but it's still nerve-wracking, especially because of the anesthesia. But Ella came through the first surgery fine, which made us a little less wary about doing it again last month.
Ella turned twelve on October 7. Two weeks later, she had one sebaceous cyst removed from her back, one fatty cyst removed from her armpit, and two
adenomas
(glanular tumors) removed from near her rump. The adenomas were tested and were benign.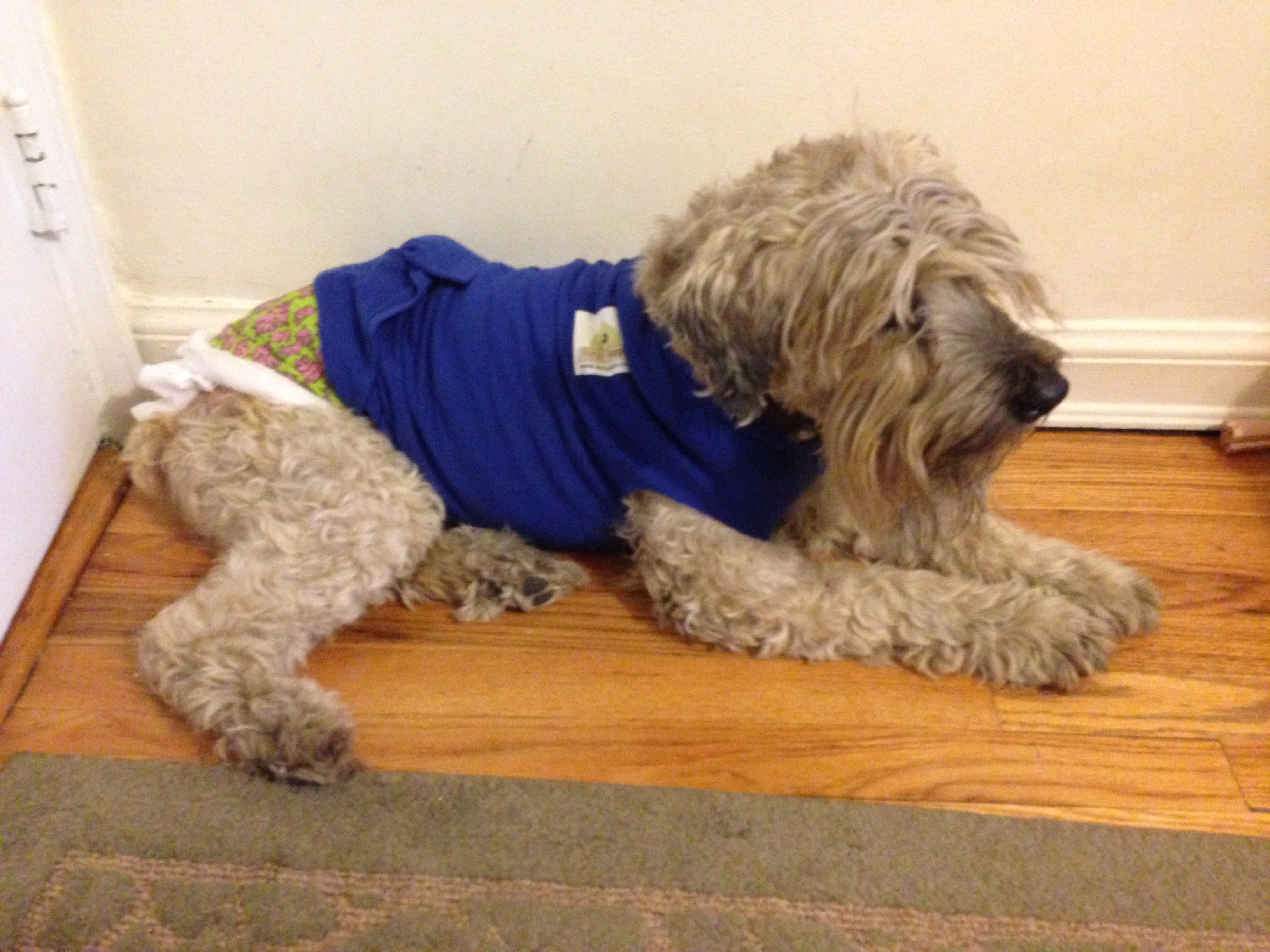 Ella recovered just fine from this surgery, too, though she had to wear this blue jumper for the next two and half weeks to keep her from chewing at her stitches. (She doesn't do very well with a cone because she can't go up and down the stairs in our house with it on.) The jumper has a butt-flap that has to stay fastened while she's in the house. The worst thing is when you forget to undo the flap before letting her outside. And by "you" I mean "I."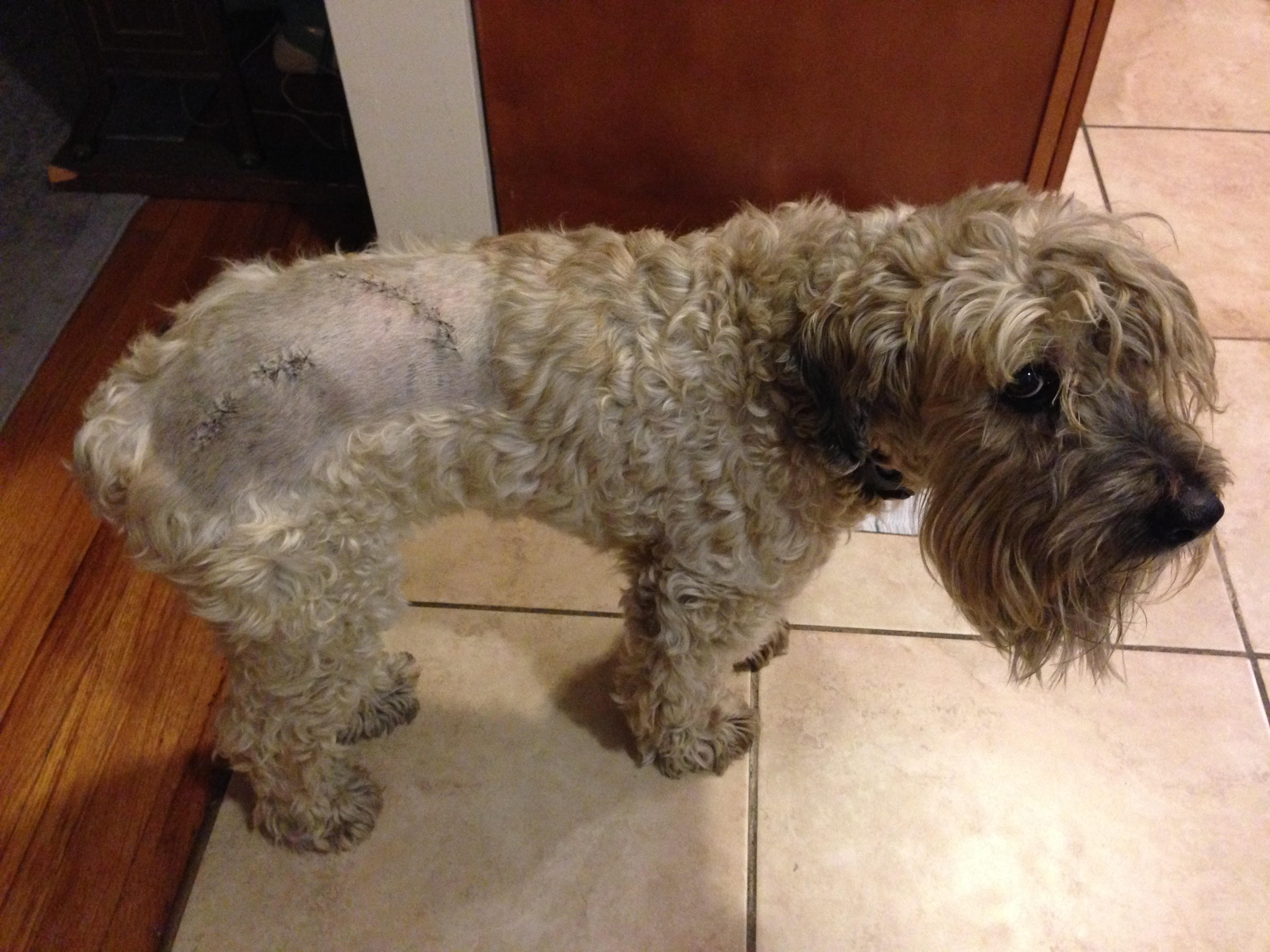 On November 5, Ella got her badass stitches out, but even before that she was as bouncy and energetic as ever, as you can see in the first video below. The second video was taken not long after the stitches came out. The third video is just one I like from earlier this year.
Can you believe this is a twelve-year-old dog?
Crossposted from Inhuman Swill
I've been so focused on my book for the past year or more that I can't even remember the last time I posted an Ella update here to the blog. I find that unconscionable, so I'm here to remedy that.